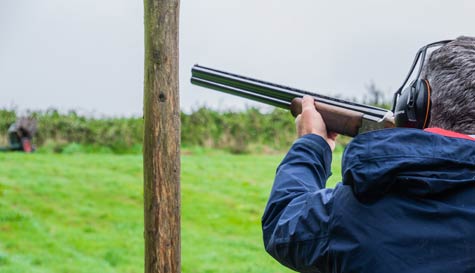 Our Torquay stag party clay shooting site has been purposely built with the clay and game shooter in mind. All the clays are thrown as realistically as possible - so targets like driven pheasant, springing teal and dropping duck (which we thought was the name of a Chinese martial arts movie!) fly just as you'd expect the real bird to do. Our instructor has been involved in the sport for twenty years and can provide tuition for the complete beginner to the experienced clay shot and game shooter. The Torquay site includes a skeet range, 'down the line' and various different sporting frameworks where targets are thrown in from a variety of towers and stands and even the trees from 150 feet to really catch you all out!

If you're a clay pigeon newbie the adrenaline buzz from shouting pull, hearing the trap, seeing the 'bird' pulling the trigger, feeling the gun's recoil and seeing the target turn to clay dust is awesome!

Luckily, there's something to suit all levels on this activity. Set on a beautiful shooting ground, get expert tuition for the novice and a one to one experience for progressing shooters who know what they're doing and want to improve their technique. Put your aims and accuracy to the test in this fantastic activity popular with hundreds of stag groups over the years!

You're also on for some fantastic sporting action and great banter between the stags as you take it in turns to watch each other shoot. No pressure then. This is epic fun with a great activity you don't get to try too often. In fact, giving it a go in your local park or down the high street will result in you kissing tarmac while the flying squad light you with little red dots. So don't try this at home kids!