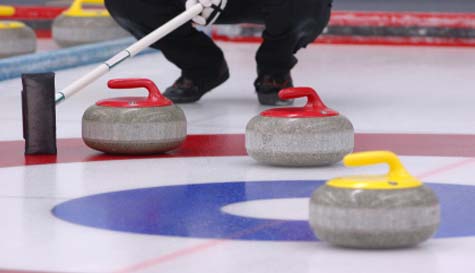 Curling might sound ridiculous, and to be honest, it certainly looks it too. But have you ever been out there on the mean sheets? No? Then you should give it a try yourself in our competitive stag party curling in Vilnius. You and the boys will have loads of fun whilst actually challenging yourselves to the max in a sport which is actually pretty intense - it did feature in the Olympics after all, and yes, the Winter Olympics do count. It's a team sport that's sure to create top quality banter between you and the lads as you fight to curl (hence the name) these giant stones into target zones at the opposite ends of your sheets.
After you've been picked up and brought here, our expert instructors will give you a few safety instructions (please don't attempt to lop the stones and don't use the brooms as lightsabers) you'll head onto the sheets all clued up on the rules thanks to a nifty video package and compete in teams to determine just who amongst you are surprise curling champions and who really needs to spend more time sweeping up at home judging by their skills with that hilarious brush.
After all is said and done, our curling will have you and the lads in fits of laughter and while you might find it all hilarious at first, you'll soon discover why people take it so seriously when everyone's competitive streak comes out. Plus there's always a chance the groom could slip up and end up face-first on the ice...
To up the ante set a
stag party forfeit
which the losing team will have to undergo to get the stag banter flowing between the teams.