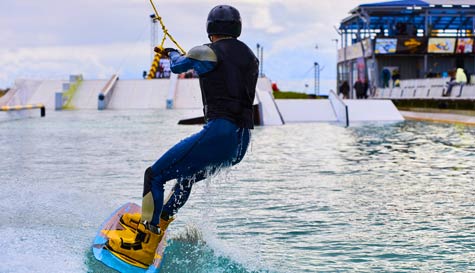 Wakeboarding is essentially a crossover between waterskiing and surfing, so if your mates are picky or argumentative bunch, it's the perfect way to bridge the gap between them. However, they should be careful what they wish for; wakeboarding isn't exactly a gentle bob along the waves, you'll be dragged at high speeds, attached to a speedboat piloted by a driver who'll definitely give you an easy ride. No really, we promise, hand on heart...

It won't be as easy as just holding on for dear life and screaming your head off either, wakeboarding uses all the essential skills seen in both surfing and waterskiing. Staying on your board is a serious challenge, and although it's hilarious to watch when the nearly-wed ends up flying face-first into the water, it's just as thrilling to see stags that were wobbly at first carving up the water like a pro.

If you've got any experience with snowboarding, surfing or even skateboarding, you've got an automatic head start here... if not, you might be in line to take a few tumbles. But with experienced tutors on hand at all times, even stags that never even been bodyboarding can soon transform into wakeboarding wizards with some expert tips and tricks.

On your coastal weekend, wakeboarding could be the perfect way to wake up the lads after a late night on the town, or alternatively, it could be just the thing to get everybody pumped up for an unforgettable night of clubbing ahead. It's a fantastic addition to any stag weekend, and it's something that'll come up in conversation for years to come.