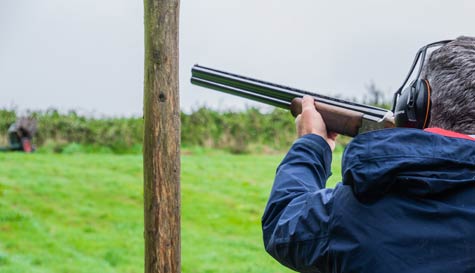 Tell the lads to put away their consoles, this is the real Call of Duty and a chance for the guys to show what they're really made of.

Clay Pigeon Shooting is the most challenging sports shooting discipline which is why it is a staple of the Olympics. And it just so happens that us Brits are ruddy good at it and have bagged plenty of shiny medals over the years at both the Olympics and World Championships. It's now your chance to uphold that fine tradition, or at the very least, not make holes in any of the stag party.

After an initial safety briefing, the instructor will take each shot into the stand separately to show them how to get to grips with the gun, find or lead the 'birds' and make clay dust. Of course the difficulty isn't just in mastering the gun, speed of the clays and weather conditions, it's putting up with the fact that you know the rest of the guys are watching your every move and just waiting for you to f*** up so they can take the pigeon out of your hapless attempts.

This is a great activity for banter as well as the all-important competitive sporting element to get all the guys fired up. Clay shooting is also surprisingly addictive. For those that haven't fired before there is also the added thrill of firing a 12 gauge shotgun, and the subsequent sore shoulder for any stags who don't listen to the advice from the expert.