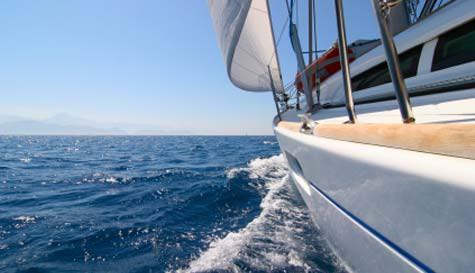 When it comes to really enjoying some downtime then a life on the ocean waves is pretty hard to beat. Out at sea, far away from the bustle of city life really is idyllic and the perfect place for stag lads to rest their aching hangovers.

Some people consider yacht charters for the rich and famous but we've made it really accessible and a perfect stag-day afternoon activity.

You'll have an experienced skipper on hand to take care of all the technical stuff (like pointing the sharp end in the right direction and making sure the masts are pointing upwards), so all you guys need to do is decide when you want to stop for a dip and when to open the next beer (all things in moderation though chaps, you won't be allowed to get legless on board for safety reasons).

We offer some of the best-chartered boats around and this activity will see you and the boys sitting on deck with an ice-cold beer in hand as you top up your tans and watch the waves roll by. You'll glide past breathtaking cities such as Barcelona, Dubrovnik and Southampton whilst enjoying the chilled atmosphere and spending some quality time with great friends.

Want to push the boat out?
Say the word and we can also arrange for you to enjoy lunch on board as an added extra.

So, sail for an amazing weekend away with the boys on this excellent yacht charter activity and make terrific stag memories that'll last for a lifetime. Thanks to StagWeb, chartering your own yacht isn't just for the super-rich anymore!