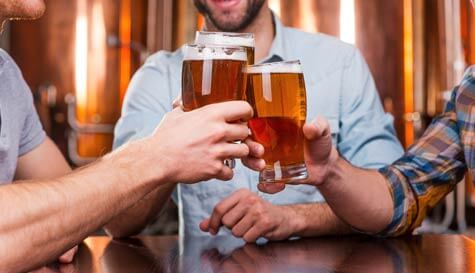 Want a stag night that is truly epic?

This is a stag night, so mediocrity simply will not do. Being strangers in a strange land can lead to less prepared stag organisers of making the cardinal sin of just "hoping" you'll find some decent clubs and bars when they get to their destination; queue hours of walking around, dodgy pubs and disappointing nightclubs. Nobody wants to be that guy. They certainly don't want to be following that guy.

Our local English speaking guide will arrange to come and meet you (usually at your accommodation) and then lead you to the 'promised land', which in this case is a night of epic proportions. Being local, our guides know all the latest bars in the city and all the hottest venues. The crawl will be tailored to suit your party and will include 3 - 6 bars (depending on numbers and the time you want to spend in each bar), where you can wet the groom's head with two free beers per stag.
It's worth noting that in Budapest the bars and clubs don't really get going until around 10pm but the party crowd continue right through to the morning.

You'll also get to enjoy the delights of a lap dance club, and trust us, the exotic Hungarian beauties really don't disappoint. And chance to put an extra smile on the groom's face he'll be treated to a table dance.

But the night won't end there, you'll then enjoy guest list entry for the whole group to a top nightclub where you can throw some shapes or just enjoy top tunes and as the assembled stags raise a glass to the best man for putting together such a top night out.

You, Sir, have just become a stag legend!

Guide for 6 hours, 1 beer free, nightclub entry, Free strip club entry - free beer pp, free table dance for the stag.

Add-ons*
Transport - If you don't fancy letting your feet take the strain we can arrange a minibus or taxis to get you around town.
Prank the groom - Stag Arerest - The groom will get pulled over by a couple of "plain-clothed coppers" and whisked off only to find that when his blindfold is removed he's in a lap dance club with all his mates looking on and laughing.
Stag Dinners - A stag party marches on its stomach, you can arrange a pre-paid meal to suit your tastes.
*Additional fees apply, ask our team for details.