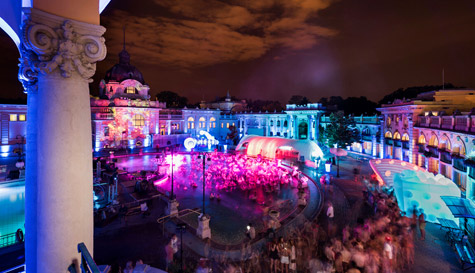 This stag do Sparty in Budapest is truly one of a kind. You and the boys can soak up the fantastic festival atmosphere of Buda's legendary party scene which is based in one of the largest baths in the whole of Europe. This is where party people from all over the world unite and it's the ultimate send-off for the groom on his big weekend away.
Your local guide will take you to the event and drop you off at one of Europe's biggest party. The Szechenyi Baths is where it goes off, fellas! At night, the massive medieval hot spring pools are lit up before the evening well and truly kicks into gear. Immerse yourselves in one of the biggest natural hot springs in the whole of Europe, as neon lights flood the waters and the ancient walls.
Bringing Budapest's two best features together (natural spas and the incredible underground party scene), this is a once in a lifetime partying adventure. The DJs will hit the decks and drop the biggest and baddest electro beats about to get you and the groom in the groove. Take in the awesome visuals and rave to some of the best modern dance tunes on the planet.
As you can expect, the craziest party known to stag-kind couldn't stay a secret for long. Word has spread across the globe and party people from here, there and everywhere are heading to Hungary's capital to experience the best of the Pest. So, if you're interested in treating your main man to the biggest night of his life, enquire ASAP! It's time to sesh at the spa…
You can choose from a range of different options….
Standard:
Basic ticket entry
A locker
Single-Premium:
Ticket entry
Two drink coupons
A locker
Single-Premium Express:
Ticket entry
Two drink coupons
A locker
Queue skipping
Single-Premium Express Plus:
Ticket entry
Two drink coupons
A locker
Queue skipping
Towel and bag
Please speak to your destination specialist for more details.