What to do in Riga
Riga's stag activities are among the best in Europe, so on top of a couple of legendary evenings, you and the boys get the chance to take part in some pretty amazing events in the day as well! The quality of the action combined with the setting is one of the reasons guys put the stag activities as one of the highlights of their lads weekend experiences. We started delivering Baltic weekends a decade ago and Riga quickly became one of the firm favourites, not least because of the top activities and support services we arrange. Select well, some of the best of the action is a cut above what you'll find in many other destinations.
11 Best Riga Stag Activities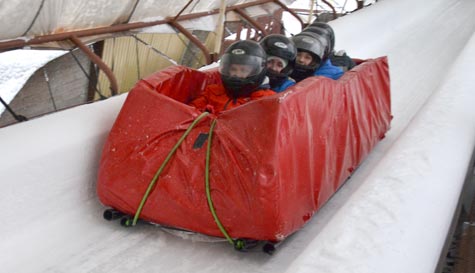 Choosing between Riga's stag activities
First off, definitely choose something, or a couple of things, it's too good an opportunity to miss. There are some real crackers and we'll steer you on the right path, whether it's seat of the pants action you're after or something a little more relaxed or even sedentary, if you include the mighty beer bike! But, you should definitely take advantage of Riga's activities because they generally deliver more than what you might normally experience at this value. The paintball, for example, is one of the best sites we've seen in the last decade and you can bet we've seen a few. Sure you might have gone paintballing before but not in Latvia and not in a setting as fantastic as this. Follow that with a BBQ lunch, couple of beers and you've got a hangover-busting activity session to remember. But it doesn't stop there, we can even put a sauna on the end of it! Your Baltic boys' trip is set to deliver some of the greatest events you and the boys will ever go on. Our expertly prepared Riga stag activities also include the unbelievable bobsleigh which you have to do it's nearly the law, a great way to scare off the hangover. Winter's the best time as the bob is bladed, while during the summer wheels replace the blades. There's also incredible 4x4, a breathtaking ropes course (hangover nightmare), impressive target shooting and of course karting. Our recommended adventures are worth the trip alone, plus we include your transfers and guide as standard so all you and the lads have to do is get ready for a top time!
Ready and waiting...
There's an epic range of Riga stag activities listed here, so whatever your group dynamic there's hopefully one or two adventures that will fit perfectly with your trip. Your personal account manager will also talk you through the best options and schedules so you are totally comfortable and clued up from the outset. Remember at StagWeb we're eager for you to get the greatest possible service and for your adventures to match your preferences so if you've got particular requirements for your Riga itinerary just let us know and we'll prepare your activities accordingly. If you don't see what you're looking for again just let us know, with years of experience coordinating Baltic boys' trips and knowing the best Latvia has to offer we can look to fit your Riga stag activities with your group preferences!
How to get more from your stag activities in Riga
So to get a better Latvian action plan you're going to have to plan the activities a little better, why risk it and expect it to work out on the day, you're taking too much of a chance. There are a few simple steps to get the Riga stag activities right (apart from speaking to us first), here's what we'd recommend…
Decide early on what you'd like to do & start looking into it
Understand any restrictions that could apply eg group sizes, height, weight, health
Understand what clothing/kit you'll need (if any)
Schedule early to get the best times and if you can try & work in a couple or more events
Ensure everybody's got insurance
Check what you're actually getting eg content, guide & transfers - are they included
Try to book with a bonded UK specialist with on-call support (like us) for maximum protection
Next steps - booking Riga's best stag activities
That bit's easy, just send a Riga brief over and our expert international team will get back in touch with great ideas and suggestions to help you get the most out of your trip. Not only can we help you make better choices with great, well-informed recommendations but we also take care of all the logistics from transfers to English speaking guides. Why not get started planning Riga's best stag activities today?