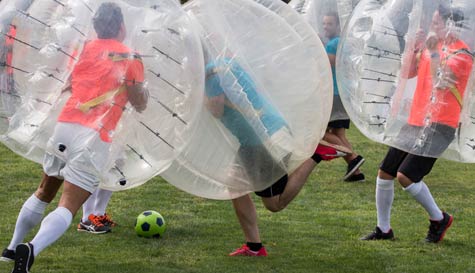 Bubble football is the funniest version of the beautiful game ever. Let us paint a picture... Imagine a group of Riverdancers wearing huge rolls of bubble wrap on their upper bodies. Then telling those dancers to go and attack a football, all at the same time, barging, bumping and bullying their opponents out the way. Now put the groom in the mix and imagine it's you and all his mates barging him into Row Z. It's that. But even better!
Our Albufeira stag party bubble football is truly epic and does level the football playing field somewhat. That mate of the groom's with all the silky skills, doing all the tekkers and thinking he's a freestyle wizard... You'll flatten him! Because while it is handy to have some good feet and how to curl a quick pass, that can be wiped out as easily as you when an opponent comes flying at you. And the soft suits make the collisions pain free but utterly hilarious.
A ref/instructor will be on hand to explain the rules and help you get suited up. Albufeira stag party bubble football is held at a site with a sports cafe which is handy as it does get hot. You'll play in teams of four and games last 10 minutes, allowing time for you to get the suits off and have a breather between matches. Depending on group sizes you can even set up your own mini tournament. But be warned, this is full contact stuff and wimps need not apply. Game on!