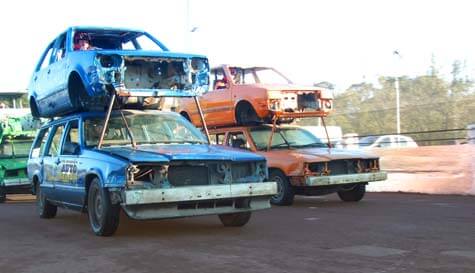 If your group (or in particular the groom) are crazy about motors then we have got an amazing day lined up which you'll be talking about for years. Getting behind the wheel of anything high powered and sleek is particularly macho, even men that aren't fully-fledged, greased up petrol heads feel the need for speed. Who doesn't like taking control of some formidable wheels?

Well, forget all that, the Auto Circus turns all that on its head, mixing hard-edged thrills and spills with a great amount of laps and laughs. You'll take on 6 remarkable and ridiculous challenges that would make the Top Gear boys proud.

At StagWeb HQ we're lucky enough to have tried all manner of driving experiences in our 'research', but this is about as much fun as you'll find on any track anywhere.

The Double Decker Showdown - Just like JC, The Hamster and Captain Slow, you'll take dual control of double-decker cars, with one of you up top controlling the steering and one below controlling the pedals! It takes teamwork, a deft touch and large amounts of swearing and laughing at each other.

The Del Boy Rally - In a Reliant Robin, you will steer through a challenging course with obstacles along the way to catch you out! Whether you're behind the wheel racing for glory or on the side of the track watching your mates foul up, you're in for a hilarious test of skill and daring-do.

Castor Cars Drift Extreme - These mean machines have casters instead of tyres on the back for a frantic, mostly sideways, experience like nothing else you've driven before.

Ultimate Race-a-Wreck - You'll get behind the wheel of a fully souped-up (and dressed down) pro-built British banger as you get to tear around dirt oval race track.

Reverse Steer Head Exploder - This wacky racer has a wheel that steers in opposition to the wheels which requires complete concentration to master, another one that's just as much fun to watch as it is to drive as you enjoy watching hapless Hamilton wannabes make a complete Jenson of it.

The Clown Car of Doom - We're actually not going to give away too much about this one because frankly everyone likes a surprise and this "One careful owner" runaround is simply superb!