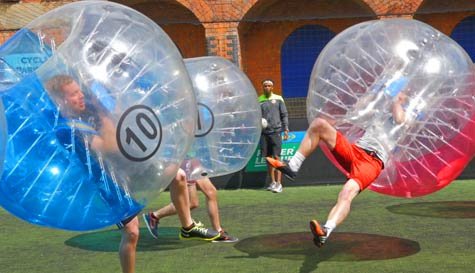 Our Belgrade stag do bubble football is, without doubt, the funniest version of the beautiful game ever! For those of you that have yet to get fully immersed in this epic sporting carnage, it's also the most brutal version of football since Vinnie Jones and Roy Keane challenged North Korea to a 'friendly'. The game is like regular indoor football except each player wears a giant bubble on his upper body leaving just his feet to show off his silky skills (or lack of). The bubbles mean you can take a good run up and simply belt your opponents off the ball.

Belgrade stag do bubble football is a full-on, physical contact sport where you can give the groom a proper beasting without the fear of actually leaving any bruises (and incurring the wrath of the bride-to-be when you get home). The action is fast furious and utterly hilarious. It's even funnier than watching Jose Mourinho attend the Association of Female Football Physio's annual conference.

Expect the teams to line up full of aggression safe in the knowledge that no one should come to any real harm, well, except for their pride that is; "Well Gary the sloppy defending at the back was appalling and mostly due to the fact that the centre forward scattered them like drunken beach balls..."

To make life even easier we'll arrange transport to and from the pitch from your hotel. The only thing we can't do is actually make the guys any better at football, sorry, we're amazing at arranging stag weekends but we're not miracle workers!