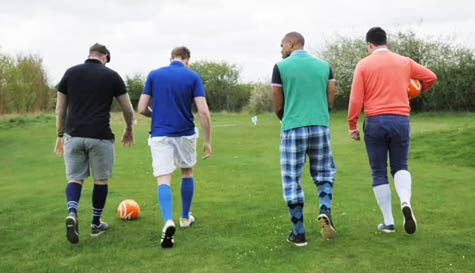 This amazing sports hybrid is the perfect challenge for competitive stags. It takes two of the greatest games of all time and fuses them together in a sporting challenge of epic proportions. Game on!
The premise of Benidorm stag party footgolf is pretty simple, the game follows all the basic rules of golf, the difference being that we've swapped the clubs for your boots and instead of golf balls into cups, you'll be trying to get footballs into over-sized holes. With us so far? Good.
The game gets more complicated by the fact that you'll be taking every shot in front of the rest of the **ss taking stags who will all be willing to watch someone shank the ball out of bounds. You can set four-ball, matchplay, pairs, whatever version of the game suits you. The skill level required remains the same.
Our Benidorm stag do footgolf is a great way to get the guys out of the bar/their beds and walk off their hangovers. It's also a superb sporting contest where you can set your own prizes and forfeits for the winner and losers.
Please note: you can also add return transfers.
This is a 9-hole course but you can have unlimited play as long as no one else is waiting to tee up. The venue is also located in Alicante.