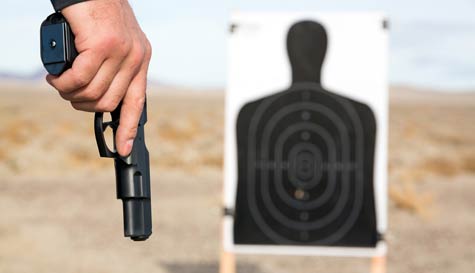 "I know what these hangovers need, the sound of really heavy gunfire!"
Yep, this is the perfect way to get the guys up with a 'kill or cure' hangover treatment. It's also brilliant fun and gives the guys some superb competition. While they might think they're pretty handy on CoD, it's a different matter once they've got their itchy trigger fingers on some proper hardware. This is serious heavy metal, delivering awesome power and it's time to find out who will be top gun and who couldn't hit Beyonce's backside with a bazooka.
For extra laughs the instructors will take a photo of the groom and blow it up for the rest of you to use as a target. Game on!
The guns you'll be firing include;
20 shots - Sig Sauer P226 or Glock 17 pistol
30 shots - Sig Sauer P228 pistol
20 shots - Smith & Wesson M64 revolver
10 shots - Remington 870 shotgun
20 shots - AR-15 semi-automatic rifle
5 shots - German K98 bolt action rifle
Please note; Actual guns may be subject to change during busier periods.
You will not be permitted to shoot if the instructors believe you are under the influence of alcohol.
The session will begin with a friendly briefing from the instructors who will be with you throughout, to keep you pointing in the right direction (literally). You'll be given one to one training on each weapon before you let rip.