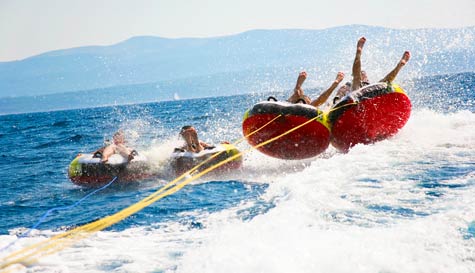 The Bournemouth beaches aren't just for lounging on or topping up your tan when you've had one too many the night before, lads, this coastal town is home to some of the most extreme water sports going. You'll discover just what happens when man meets inflatable donut ring and high powered speedboat.

The answer is a hell of a lot of fun. The concept of ringos is pretty simple, you and the lads will climb into an inflatable ring to be pulled at high speeds behind a racing speedboat, the hardest part is holding on! This is a hilarious activity that'll see the lads absolutely wetting themselves as they see their best mates flying over the water at roughly 'aaaaaarghh!' miles per hour!

If you're looking for some watersports action on your big weekend, but an intense session of white water rafting sounds too much like hard work, then this is definitely for you. Ringos requires no skill, no strategy and no complicated training to master before you can hit the water... it's just pure fun and adrenaline.

Just to add a little more stag mayhem, you'll ride two or three at a time, meaning that you could end up witnessing first hand what happens when you don't hold on tight enough as your merciless driver ploughs straight into an oncoming wave.

Ringos are sure to be a big hit with the boys, it's wet and wild fun that you can almost guarantee nobody will have tried before. Plus there's always the chance you'll see the groom plunge head first into the water!