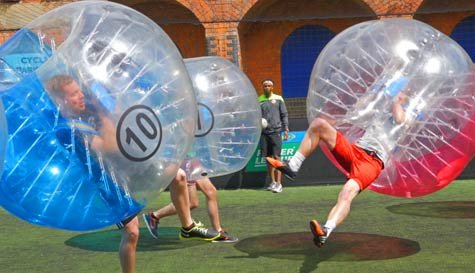 We'd love to hear Alan Hansen commentating on a game of bubble football, "Well Gary the sloppy defending at the back was appalling and mostly due to the fact that the centre forward scattered them like drunken beach balls...". The action is fast, furious and always funny. A bubble football stag do is our hottest activity with guys (and girls) playing all over the country.

What's the Bobby? Essentially bubble football is association football meets banger racing... While wearing giant bubbles, naturally. Each player gets a bubble suit which restricts arm movement, balance and a lot of his normal silky skills. Don't get us wrong, the game is still skilled, it's just more like Messi doing Riverdance while wearing a giant hamster ball. Once happily encased in your inflated cocoons, you get to run, barge, bounce, stumble and roll all over the pitch. The ref will be on hand to uphold fair play and keep a reign on the chaos but to be honest once the game starts, things just have a way of getting out of hand all by themselves, as the beautiful game turns ugly with hilarious results.

You're 'avin' a Bubble! You certainly will be having a laugh. Watching your mate score a goal, running up to chest bump him and both bouncing off each other like inflatable wrecking balls.

Sing When You're Winning - All great stag dos need some 'friendly' competition, it's basic stag party MO. Bubble football (also known as zorb football) really kicks that up a gear by adding huge laughs while still making sure all the lads can play to win. The only thing we don't understand is why it's not an Olympic event already?!?

The Beautiful Game - While we would never knowingly do anything to harm "the beautiful game", bubble football is a hilarious twist on the finest sport known to mankind. It's as if someone just took the world's greatest game and made it even better!
*Sexy refs are not included but can be added to your session in some locations. Please ask our team for more details.