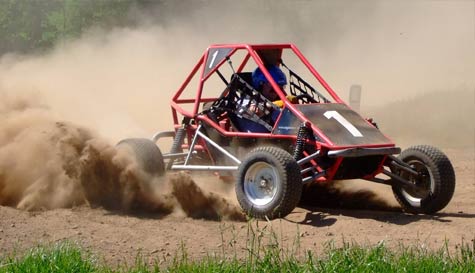 Remember that Nissan Micra who cut you up last week, or the bus that pulled out without even looking? Arriving at work and finding no parking spaces...? You stayed calm and held it all in check. Well, now it's PAYBACK TIME!
Capable of hitting speeds of up to 60mph these high powered wee beasties are the perfect way to work off that road rage as they're just about the angriest off road machines ever! Keep them pointing in the right direction, with all four wheels on the ground and apply the power and our Glasgow rage buggies will chew up and spit out any terrain their aimed at. Although keeping them shiny side up isn't as easy as you might think.
Each of our Glasgow rage buggies is fitted with a roll cage, racing harness and off road tyres to increase the safety, so you can bring that Monday-Friday commuter frustration and really work off the midweek blues. You'll be issued gloves, helmets and overalls and given racing instruction from the experts/marshals. Then you'll hit the track, of course, this being a purely off road, dirt track there's the added thrill factor of potentially see the groom lose control and park it halfway up a tree.
But best of all our Glasgow rage buggies are all about competitive action, after an initial practice period you'll battle it out over a series of heats followed by a grand finale and podium champagne presentation for the top 3 drivers. Plus of course the deserved scorn for the stag who comes in last place ('tis the way of the stag).