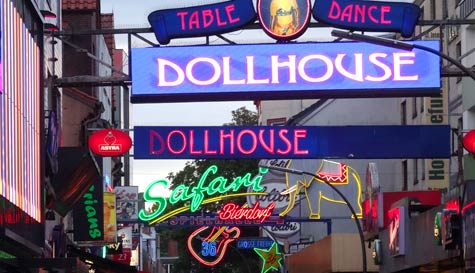 Ok, let's get something straight here, you can't go to Hamburg for a stag weekend without going to the infamous Reeperbahn. Yes, physically could arrange a stag do and not go to 'das bahn' but you'd have your man card confiscated and be sent to join the hen party.
Because the Reeperbahn is the place to be in Hamburg. It's the area of Hamburg that The Beatles called home as they learnt their craft. As John Lennon said, "I might have been born in Liverpool - but I grew up in Hamburg."
The amazing Hamburg stag party red light district tour will begin with a welcome beer as you meet your friendly local guide and hear a few facts about Hamburg's red-light district:
Is the area legal?
How did it come to exist?
Who has ruled St Pauli (the area the Reeperbahn sits in)?
How do the shops run?
Who was the Hamburg Jack the Ripper?
During your Hamburg Red Light district tour, you'll see the sights as you learn the history. You'll get entrance to one of the best lap dance clubs. You'll also have entry to other bars and clubs. This isn't a seedy sex tour, yes, the red-light district has a reputation but it's a fascinating place with an amazing history. It just so happens that as you learn the history you'll get to see some of its performers. We like to think it's the perfect mix of culture giving the groom one final look at what he'll soon be banned from seeing once he's tied the knot. He's only got himself to blame!