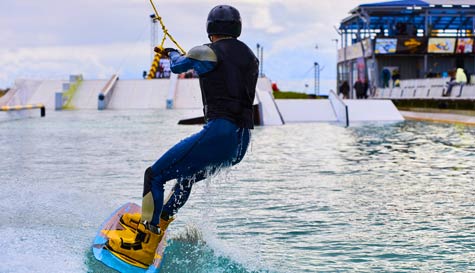 Water sports, wakeboarding, booze and sunshine in Ibiza - stop us if we've just described your ideal afternoon. Handily, you and the boys can experience all of these fantastic activities on one big boat of joy on the white party island!

Whether you want to bring out your inner 70s fitness goddess and try out waterskiing or get macho on a massive wakeboard and show all the lads your athletic prowess, there's something here for you. If you're more of a spectator, however, there are plenty of beers in the fridge and a whole lot of sunbathing to be getting on with. Perfect.

Boasting a range of comfortable sun-loungers, extended sunshades, a swim platform and space at the front for 4 stags to ride the waves with ease, this really is one of the coolest boats around. You'll even be able to explore those caves and coves that larger boats themselves can't access and an experienced captain will act as your guide to the island's best bays and beaches.

The captain will also be your divemaster for the day, bringing you through all the best places to enter the water. Take advantage of the local expertise on offer and try something new in the world of water sports, whether that's water-skiing or wakeboarding - or if you don't feel much like balancing, just have fun with the towable rubber ring! The boat also has a high powered CD and MP3 stereo 10 speaker system so you can blast out the stag's favourite tunes as you enjoy half a day on this fantastic party boat.