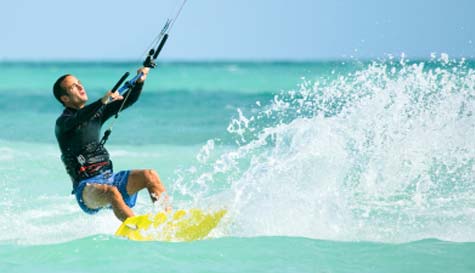 Stag party kite surfing will take the boys to the next level of coastal chaos, as you get surfing on boards powered by the epic ocean winds. Pushing the boundaries of water sports, kite surfing is a super physical hybrid of both surfing and power kiting that will see you harness the ultimate power of Mother Nature.

You'll need to show all your skill with your massive power kite if you're going to avoid falling into the water (which of course someone will!). There's also a good chance you'll find out who should really be taking on the waves in a rubber dinghy instead of these wind-powered bad boys!

But with our experienced instructors, the competition might be more level than you'd expect. So even if you've never stepped on a surfboard before, soon enough you'll be pulling off tricks like a pro. This is seriously awesome fun that the boys won't be forgetting any time soon as they're pulled into the air by their kite to pull off some unquestionably cool board flips.

Kite surfing is a must for lads looking to take on an exciting new challenge that's unique to our coastal locations. It's wet and wild fun that's sure to get all the boys fired up before you head back to dry land for that big night on the town.