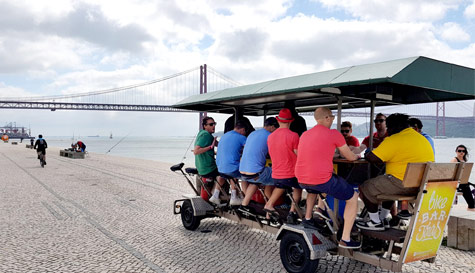 It's a tough call, you've only got forty-eight hours to party and there's so much to squeeze in, spending time in the bar, taking the **** out of the groom, having a few laughs, taking the **** out of the groom, exercise and take the **** out of the groom.
Well now you can have your pint and drink it. Our awesome Lisbon stag do beer bike is a chance to get out and about without having to stroll too far from the bar. This funky pedal-powered pub will allow all the guys to work up a sweat (and thirst) as you pedal along.
You'll have your own driver/landlord to keep you pointing in the right direction so you can focus on having a few laughs and a few beers. This isn't just one of the greatest modes of transport ever invented, it's also a great way of exercising because you get to drink beer while doing it. If only all exercise could be this much fun we'd all be Olympic athletes by now!
If you've never been on a beer bike before the idea is simple; your guide will do the driving while you and the guys provide the power as your bar stools are all fitted with pedals.
There's also the added bonus that you can tell people exactly what you did when you get home without having to tell any porkies?
"So what did you lot really get up to?"
"We got outdoors to work on our tans and did loads of exercise." Win/win!