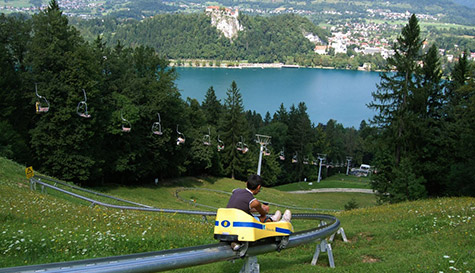 A stag party in Slovenia has the full package. From the mad nightlife of Ljubljana, one of our top destinations here at StagWeb, with ljubbly jubbly clubs, pubs and amazing activities to choose from, to the beautiful Bled, just North of Slovenia's capital where stags can take a big breath of fresh air and tackle something completely different that'll get the guys' adrenaline pumping in no time.
You'll be picked up from your accommodation in Ljubljana and in just 45 minutes, you'll be in Bled, a stunning lake with views of the mountains of Triglav National Park where stags are free to roam on this outdoor activity. On the Bled Experience, you'll be taking giant leaps of faith on the Bag Jump and sledding on the all-season sled track overlooking Bled Castle.
Once you've arrived and taken in this stunning location, you'll be greeted by the English-speaking instructors who'll show you the sledding course and how to control the karts. Bled Sledding (Bledding?!) runs on an all-weather track so can be done in the summer or winter, and you'll get to the top of Straza Bled using the ski lift. Then it's all downhill on a track that snakes down the side of the hill, you'll feel like you're flying towards the lake with lads behind you cheering each other on.
Then, when you're ready to test the stag's bravery, you'll take on the high-jumping Bag Jump, a towering platform with two levels where you'll flip, somersault, or just do a belly flop onto a massive bag of air. There's a beginner's level and the ultimate high platform for the stags who want to show off and pull a few stunts. Return transfers back to Ljubljana and your hotel are included.
Track length: 520 m
Elevation difference: 131 m
Top speed: 40 km/h
Average incline: 25.2%