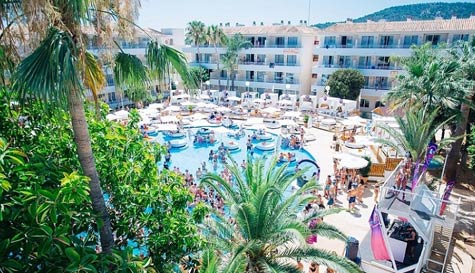 Waterparks would be the coolest places on the planet if only they weren't overrun by kids and families doing perfectly understandable family fun stuff. But forget being reasonable, we have answered your prayers with what is quite possibly the best party on the planet!
Here's the Bobby, a 9-slide waterpark set inside a party hotel. We'll arrange entry and then once you and the guys are inside the good times just keep rolling. All-inclusive food and drink, great tunes, top DJs, unlimited access to the rides and hot babes in swimwear. Life just doesn't get better than this!
One ride reaches speeds of up to 60kmh, hitting 2.5G in under two seconds and has a 360-degree loop. You and the guys really can go nuts. When you're not on the rides you can relax and work on your tans, chill out in a floating booth (essentially a floating table and drinks while still in the pool). With free food and drinks all day you really can have your fill, just don't go too wild if you want to enjoy the rides.
And while all the fun is happening there are top tunes to listen to with guest DJs and bigger pool parties on selected dates. Please ask our team for details.
Please note, this is a day pass only.