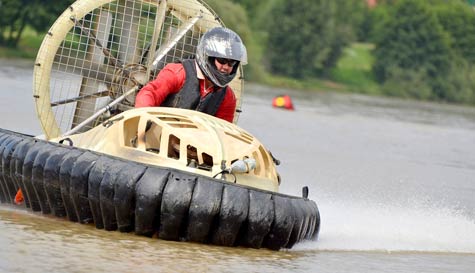 There's nothing quite like having a big engine, high speeds, no wheels, no traction control and no brakes to get the lads' hearts pumping, and our Maidstone hovercrafting centre will supply all those things in an epic session of racing meets Total Wipeout. Forget taking the racing line, you'll be doing well go in a straight line when you first take one of these odd creations out for a spin (literally).

You'll have to plan ahead when manoeuvring your hovercrafts, because without any brakes to speak of there won't be much time to correct any mistakes before you go soaring off the track and into a hedge. It's the ultimate test of a stag's patience, physical prowess and precision control (or lack thereof) as you battle against your machine through every inch of the track to put in the best time and emerge from this high speed gauntlet victorious.

Yes, the hovercraft has controls but in the wrong hands they really aren't much use once the madness descends and the stags get racing. You'll be hitting speeds of up to 40 miles per hour on a custom built course in a craft that has all the composure of Johnny Vegas at an all you can eat buffet.

Our Maidstone hovercrafting centre offers an awesome track for you to speed across. With a challenging land based course that features two 70 foot stretches of water, you'll get to experience the thrill of taking one of these awesome inventions across varied surfaces and feel the change between water and land first hand; it's epic!