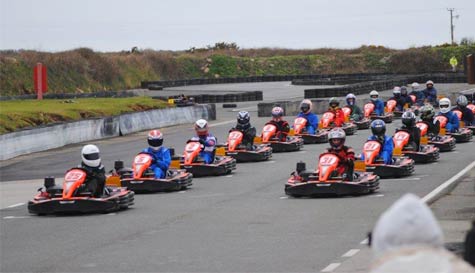 Go karting in Newquay is one of the best ways to satisfy your need for speed in the South West. Whether you're an absolute demon on the racetrack or get overtaken by grannies on the drive to work, a trip out in a high powered kart will bring out the competitive spirit in everybody!

Even though karting is a pretty old school activity, it's well-loved for good reason and even better, very few people will have experienced such a heart-pumping, adrenalin-fuelled event as offered by this spectacular track in Newquay. The massive 1300m circuit has been very carefully designed with the assistance of some of the UK's top racing drivers and constructed using only the very best materials. Why not treat your groom to be?

With such a large track on offer, you'll certainly be in need of your very own top quality 390cc thunderkart to get you around and we certainly won't disappoint there! You'll be able to power around the track at speeds of up to a massive 70mph, so watch out for low flying stag guests who just can't wait to pick up the top spot. The fleet of 25 karts is annually upgraded to maintain only the very highest of standards. The site is one of the longest, fastest and most exciting in the South West and we'll provide everything you could possibly need for an action-packed session on your powerful kart!