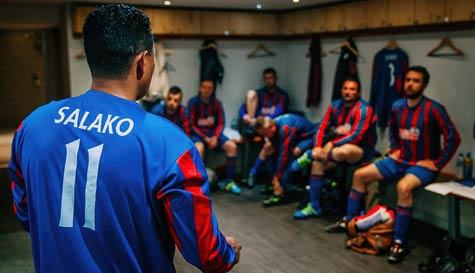 We've all got that one mate who bangs on about how he "...could've turned pro". It's finally time for him to let his boots do the talking as the stag party takes to the pitch with one of the legends of the game.
Any stag football match is a chance for the groom to showboat his silky skills in front of his handpicked stag team but you can now arrange for him to be joined by one of his sporting heroes. Imagine the look on the groom's face when he finds Shaun Goater or Michael Duberry sitting in the changing room. Not only will the legend give you a pre-match pep-talk and join you on the pitch, he'll also share a post-match pint with the stag party.
Arsenal - Kenny Sanson, Perry Groves, Nigel Winterburn, Paul Davis, David Hillier, Stephen Hughes
Aston Villa - Ian Taylor, Lee Hendrie, Ray Houghton, Alan Wright
Birmingham City - Nicky Forster, Clinton Morrison, Muzzy Izzet, Maik Taylor, Tommy Mooney, Paul Devlin
Blackburn Rovers - Matt Jansen, Christian Dailly, Dominic Matteo, David Thompson, David May
Bolton Wanderers - Gerry Taggart
Bournemouth - Matt Holland, Russell Beardsmore, Luther Blissett
Charlton Athletic - Chris Perry, Rob Lee, Christian Dailly, Graham Stuart, John Salako, Matt Holland
Chelsea - Graham Stuart, David Beasant, Frank Sinclair, Michael Duberry, Pat Nevin, Graham Roberts, Neil Shipperley
Coventry City - Noel Whelan, Steve Sedgley, Clinton Morrison, Darren Huckerby, David Thompson, John Salako, Phil Babb
Crystal Palace - Kenny Sansom, Matt Jansen, Clinton Morrison, Hayden Mullins, Ian Dowie, John Salako, Danny Gabbidon
Derby County - Danny Higginbotham, Ian Taylor, Christian Dailly, Rob Lee
Everton - Don Hutchinson, Graham Stuart, Pat Nevin, Peter Beagrie, Neville Southall (Ref / Manage / Chat)
Fulham - Maik Taylor, Rufus Brevett, Jonathan Greening, Simon Davies
Hull City - Dean Windass, Gary Alexander
Ipswich Town - Steve Sedgley, Matt Holland
Leeds United - Noel Whelan, Darren Huckerby, Dominic Matteo, Michael Duberry
Leicester City - Darren Eadie, Frank Sinclair, Gerry Taggart, Iwan Roberts, Keith Gillespie, Matt Elliott, Muzzy Izzet
Liverpool - David Thompson, Dominic Matteo, Don Hutchinson, John Aldridge, Phil Babb, Mark Wright
Luton Town - Ian Dowie
Manchester City - Darren Huckerby, Peter Beagrie, Steve Howey, Steve Lomas, Richard Edghill, Shaun Goater
Manchester United - Neil Webb, Clayton Blackmore, David May, Russell Beardsmore
Middlesbrough - Noel Whelan, Clayton Blackmore, Dean Windass, Julio Arca
Millwall - Alex Rae, Jimmy Carter
Newcastle United - John Beresford, Keith Gillespie, Rob Lee, Ruel Fox, Steve Howey
Norwich City - Darren Eadie, Darren Huckerby, Iwan Roberts, Ruel Fox
Nottingham Forest - Neil Webb, David Beasant, Des Walker
Portsmouth - Neil Webb, Hayden Mullins, John Beresford, Linvoy Primus, Darren Anderton
QPR - Kenny Samson, Ian Dowie, Steve Lomas, Rufus Brevett
Rangers - Christian Dailly, Alex Rae, Graham Roberts, Andy Goram
Reading - Neil Webb, Nicky Forster, John Salako, Linvoy Primus, Michael Duberry
Sheffield Wednesday - David Hirst, Gordon Watson, Ian Taylor, Kevin Pressman, Clinton Morrison
Sheffield United - Graham Stuart, Don Hutchinson, Paul Devlin
Southampton - Chris Perry, David Howells, Francis Benali, Perry Groves, Brett Ormerod, Danny Higginbotham, David Hirst, Gordon Watson, Ian Dowie, Jason Dodd, Maik Taylor, Neil Shipperley
Spurs - Chris Perry, David Howells, Graham Roberts, Micky Hazard, Steve Sedgley, Darren Anderton, Ruel Fox
Stoke City - Lee Hendrie, Danny Higginbotham, Gerry Taggart, Michael Duberry
Sunderland - Alex Rae, Danny Higginbotham, Don Goodman, Julio Arca, Micky Gray, Phil Babb, Don Hutchinson
Watford - Marcus Gayle, Iwan Roberts, Luther Blissett, Tommy Mooney, Paul Devlin
West Brom - Graham Roberts, Don Goodman, Ruel Fox
West Ham - Christian Dailly, Don Hutchinson, Hayden Mullins, Nigel Winterburn, Steve Lomas, Danny Gabbidon, Tony Cottee (Just Refs and Manages)
Wimbledon - Chris Perry, Marcus Gayle, David Beasant, Nigel Winterburn, Neil Sullivan, Neil Shipperley
Wolves - Don Goodman, Iwan Roberts, Alex Rae, Michael Gray, Steve Sedgley
Let us know which football legend you'd like to play within the enquiry form below.