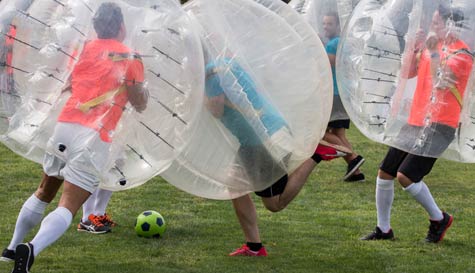 Bubble football is the most hilarious version of the beautiful game ever! A game that really does level the playing field, and then barges into the playing fielding sending it a*** over t** as it rampages through on goal. It's football Jim, but not as we know it.
Every stag do needs competition and it really doesn't get better than this. If you've not played before, bubble football follows the same rules as the regular game, except all the players are encased in giant bubbles from the waist up. That means your feet are still completely free to show off all your silky skills, the trouble is your opponents won't care about your footwork, they'll be too busy trying to barge you into row Z. And you'll be doing the same to them.
This really is hilarious fun and a real leveller, don't get us wrong, the game is still skilled, like Ronaldo doing the Riverdance in a giant hamster ball, but the real difference is that less skilled players can now have just as much fun because what they lack in skill they can make up for in bubble-based violence.
As well as pitch hire and zorb suits, StagWeb will also arrange for an English-speaking instructor, water to keep you hydrated and return transport.