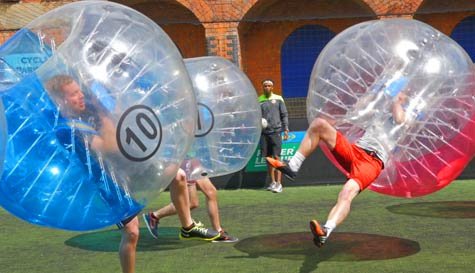 It's as if someone just took the world's greatest game and made it even better!
Our Woolacombe bubble football stag challenge is one of the maddest stag games you'll ever encounter. For those that have never seen this awesome sporting mash-up before... Imagine mixing Riverdance (you can't move your upper body) with football. Now subtract some of the skill element (although you can still use silky footwork and slide-rule passes if you have enough time on the ball) and replace it with extreme violence.
Add in a load of hyped up, possibly hungover stags and you are set for a session of absolutely brilliant sporting action.
The game itself runs to regular 5-a-side rules but with your bodies encased in giant padded bubbles the trick is to barge, bump and bash your way to victory as everywhere around you stags are flying through the air and rolling around like drunken skittles.
The ref will be on hand to make sure everything is kept safe. He'll also introduce a few added games for more twists and fun such as British Bulldog, Last Man Standing and Rolly Polly Races.
All great stag parties need a bit of competitive action and this ticks all the boxes, it's a true sport, it involves kicking things and trying to do damage to the groom. It's the perfect stag sport.
We would never wish any disrespect to the Association Football, this superb mash-up is a hilarious twist on the finest sport known to mankind. It's also a great way to beat the **** out of the groom without leaving any lasting marks. "It's what he would have wanted."