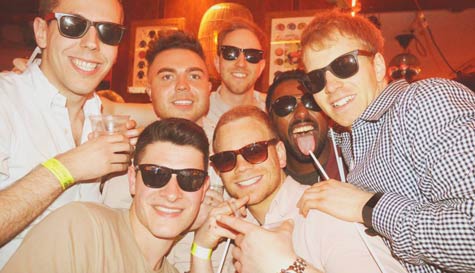 You're not like other stags, pub, pint and a game of pong... Yawn! You want all-singing, all-dancing, total stag madness. Because that's how you roll. And this night out delivers while taking you to some of London's hottest venues.
The night begins in one of the capitals top comedy clubs. A table will be reserved for you plus we'll kick you off with a round of beers to have a drink to the groom on us. Cheers. The show will then start with some of the UK's hottest new comedy talents taking to the stage plus a comedy compere linking the show together. You might even recognise some funny faces from TV panel shows. This is a venue that has hosted some of the country's biggest comedy names like Romesh Ranganathan (17 letters, 6 syllables, that's a big name).
You'll be joined by other party people, then it's on to two superb West End pars where the party continues. You'll have comedy ties because sometimes you guys are just ca-razy!
The whole night is wrapped up by a host/guide who'll lead the way and make sure the atmosphere is fitting for the grooms big night. But one word of warning, even if you're in high spirits never, EVER heckle the comedians in the club. These guys are pros, they will win any war of words and get bigger laughs. Don't say we didn't warn you!