Amsterdam Stag Activites: The Lowdown
Stag activities in Amsterdam provide a refreshing range of sports and adventure to fit between a couple of huge nights out. You can choose the more traditional pursuits like guns, motorised sports, alcohol-centric events (eg. The Heineken Brewery and the superb beer bike) or from a selection of the slightly more unusual, right down to a sex museum. On the sporting events side of the fence, you and the boys can enjoy a trip to Dutch footballing giants Ajax, with a stadium tour and match day. We have a detailed guide on our huge range of Amsterdam stag activities listed below and even more are available by special arrangement, we're ready to help show you how to plan an outstanding event.
11 Best Amsterdam Stag Activities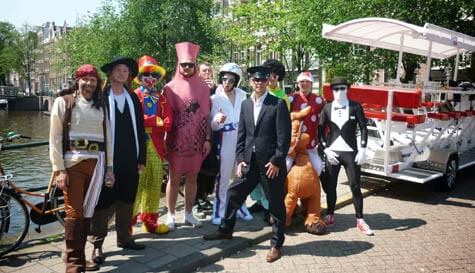 Why you should book at least one Amsterdam stag activity!
Let's face it, you don't go to Holland's capital city for the crepes, you go for a huge weekend and a couple of monster nights, which means the days can be a little dehydrated. Given that the hours with sunlight may be viewed as a recovery period, it's important you get the energy back, and there's no better way to do that and keep the banter going than with an activity or two - even if they're of the more sedate variety. Bottom line - you should definitely book something, even if you're just taking pedalos down the canals! It'll keep the lads on their toes and add a dimension to the Dutch experience.
Which activities are going to work best?
That largely depends on your group, age, budget and desire, to name a few. We can talk to you about that and steer you right as we go, in the meantime the following could be useful:

On the action side, the best Amsterdam stag do ideas are never boring: go karting, quad bikes and target shooting. But if sport's your thing you could combine a visit to Ajax with your own stag version of the beautiful game: we can arrange a wheezy game of five-a-side football for you and the lads. For more unusual events you could choose from low land games to indoor snowboarding to blokarting (aka land yachting). Then, gents, there's a chance to make it fun with a bike tour (beer stops allowed) or even our beer bike and … ahem … keeping on a theme, even a trip to the famous Heineken Brewery. Just let us know what you need and we'll tailor-make a programme to fit your group! And don't worry about fitting in Amsterdam's Red Light District, you can visit this later as part of your Amsterdam stag night.
Book your Amsterdam stag activities early!
If you're organised enough to get a good run-up you'll be in a better position to schedule the Amsterdam stag activities a lot more agreeably. As you already know it's a really popular destination so programmes do book out quickly. Allowing for preferred times, we'd suggest not attempting anything too early for a couple of reasons if you've had a big night (1) you might still be over the limit and (2) the lads are bound to bend your ear if you get them out of bed for a 9am start. So we'd suggest thinking about an easy late-morning activity followed by a lunch break and then something decent in the afternoon. You could flip that a little and start an activity after lunch, followed by a few rounds on the beer bike, followed by a tour of the Amsterdam Red Light District before refreshing at the hotel prior to that second, legendary evening on the town! That, sir, would be a very decent, group pleasing day. We're experts in group events with loads of Amsterdam stag experience - it's our job to consider all the angles and get you more out of your trip, so just tell us what you need and we'll help you schedule it.
Save time, money and hassle with StagWeb!
Planning something to do and making the most out of your main day instead of just sitting in a pub is a smart move as an organiser, and we're here to help save time and hassle. Plus, when it's all said and done, we'll save you money and financially protect you as well! It couldn't be easier to sort the Amsterdam stag activities from here, just drop us a line or send us an enquiry. "Hoera!"