How It Works
1
You Pick
Choose from 100s of elite activity and accommodation options.
2
We Sort
Forget faff – we'll arrange the whole package, you take all the credit! Book it with a small £40 deposit.
3
You Party!
Head off on an unforgettable weekend you and the boys will be talking about for years to come!
Things to Do in Madrid
A city as obsessed with football as Madrid is the perfect place for sports-loving stags, but there are so many stag activities in Madrid that there is something to suit every budget and taste.
Madrid activities are in the top tier, whether you're hitting up the classics like Go Karting or Bubble Football, or you're going for something a little more unusual like Whitewater Rafting or Wakeboarding, you'll be perfectly placed to send the stag off into married life in style.
11 Trending Madrid Stag Activities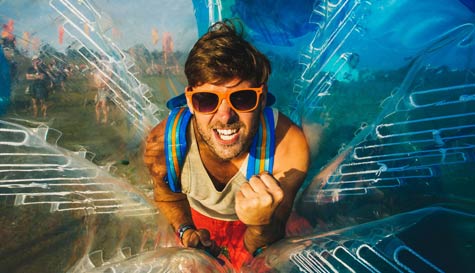 Where to find the best action in Madrid?
The search is over, we've done the hard work so you don't have to, finding the best hotels, nightlife and stag activities in Madrid. It's really just a case of how messy you want to get. For some stags it's not the taking part it's the winning that counts. They demand fast-paced winner takes it all competition and challenges.
For others its time to just get together and have a laugh with some teamwork thrown in to keep everyone heading (and drinking) in the same direction.
We've already found the best that this great city offers so if you like to work hard but (stag) party harder then "bienvenido a Madrid!"
The Galacticos - the best Madrid stag activities
Kayaking Day Trip - Get busy on the water, this really is a great day out for you and the chaps.
Whitewater Rafting - If mere kayaking isn't man enough for you then step it up a gear and get into some serious hot water.
Indoor Skiing/Snowboarding - "Baby it's cold inside." You can get away from the heat and learn how to ski or board knowing you'll still have time to work on your tans when you're done.
Indoor Go Karting - A perennial favourite with stags no matter the destination, however, Madrid's track is well worth a visit for Stig wannabes.
Water Park- What kind of stag doesn't get excited about water parks?!? And Spain have some of the best in Europe.
Wakeboarding - The most fun you can have on what is essentially an aquatic ironing board. Hilarious fun in the sun.
Rock Climbing - Man-sized fun for adventurous stags. Trust and teamwork are vital on a day that sorts the men from the boys.
La Liga - Time your trip right and you could bag yourselves some tickets to see the most successful team of the 20th century.
Stadium Tour - Take a look behind the scenes at the home of FIFA's club of the century.
Theme Park - Movie fans and thrill seekers will get the best of both worlds at Warner Bros theme park.
Chocolate Mud Wrestling - Once two of Spain's sexiest gladiators have finished battle they'll turn on your main man and give him the type of going over he won't forget in a hurry!
"Hacer Ma una Doble!" (Make mine a double!)
By planning wisely and making the most of the deals you can have twice the fun. A morning on the track and afternoon on the golf course? Throw yourselves into some whitewater rafting before throwing the groom into some chocolate mud wrestling?

Your weekend will be over before you know it and any prevaricating could mean time wasted so think ahead and talk to our team. We'll help you build the perfect itinerary and make the most of your time to mix and match the best activities in Madrid to suit your taste and budget. Ask now.
Let's get this party started…
We're always happy to help. You might just have a quick enquiry about where to go, you might need advice about travel requirements or just advice in general. Even if you don't have an immediate booking to make we're still pleased to offer advice and information.
But if you're ready to start booking your event or at least find out prices then you can ask for a no hassle, no obligation quote. We won't push the hard sell on you, however whenever you're ready to start putting your (deviously created?) best man/stag organiser plans into action then give us a call or send us your enquiry.

Beating our chests we'd say we're the best at what we do, but don't just take our word for it. See our stags' reviews here.
Travelling abroad? Stay informed.
For information on staying safe and healthy while travelling abroad as well as local laws and latest government advice on destinations visit the FCDO Travel Aware website.
For travel insurance advice also see our Groupia guide.