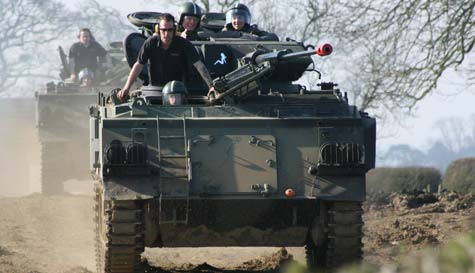 This really is a boyhood dream come true. You and the lads will be able to take charge of some serious heavy metal and drive the behemoths into stag battle, thankfully for those around you, the turrets will not contain any kind of high explosives (yeh "it's health and safety gone mad").

However, what you will get is a huge bouncing thrill-ride in the most deadly piece of machinery you will possibly ever get to drive.

Once you have an idea of the controls the instructors will then give you a real push and send you towards terrain that you simply won't believe it's possible for any vehicle to tackle. What's more, the rest of the lads will be watching so putting a foot or tank trap wrong will mean certain ribbing from the guys.

We can offer this fantastic experience at a number of locations, each location will offer very different tank driving days at very different prices. And according to your destination and venue's capacity, we have mini tanks right up to Chieftains available for keen stag recruits. It ranges from great value to hugely expensive - they are expensive machines after all, but surprisingly in central Europe, it's more expensive than in the UK! Which seems crazy considering in certain Eastern European locations you can buy them... Allegedly.

But this is certainly one to tick off your bucket list and something we highly recommend as a truly exceptional stag party experience.