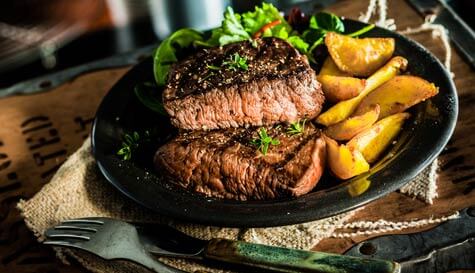 It's arrived, after all the madness and mayhem of a day spent watching the football or zooming around the go-kart track, the sun has finally begun to fall, and all the electricity of a big night out is in the air. However, getting your evening off to the perfect start can be a tricky issue; you'll all need a bite to eat, but you'll also want to have a drink or two.

Finding somewhere to feed your stag squad's appetite can be hard, but with our Barcelona dinner and drinks, we'll arrange everything for you. So you can sit back, relax, and enjoy some quality food as well as some ice-cold beer. You'll be heading to one of Barcelona's top restaurants to enjoy a fantastic three-course meal that'll likely consist of a tasty tapas starter, an epic burger (or pizza for the veggies amongst you) with an ice cream dessert.

However, on your dinner and drinks, this can't just be any old dining experience; this is a stag do after all. So you'll be treated to a first-round on the house, and you'll even receive a free shot to toast the stag at the start of what's sure to be an unforgettable night out on the town.

With top food, quality beer and epic banter, this is the perfect way to kick off any big night out in Barcelona!