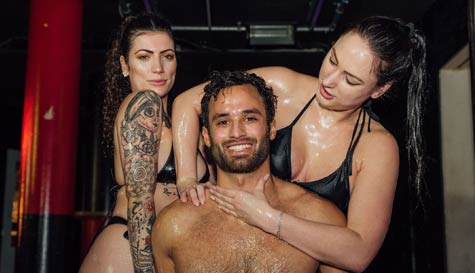 Our Amsterdam stag party oil wrestling is quite simply the daddy of all stag do stitch-ups. The perfect chance for all the guys to laugh at the groom's expense in a way that only your best mates can.
This is humour with a bit of ritual humiliation thrown in for good measure and all the guys are going to absolutely love it!
But let's just cut back to basics for a second, any good stag weekend requires four basic components:
Cold beer
Hot babes
Laughter
Pain/embarrassment for the groom
The oil wrestling session will begin with a round of cold beer because it's important before taking part in any sport (or spectating for that matter) that you're properly hydrated. As the drinks are being enjoyed, two smoking hot babes will enter a ring of warm oil. And, of course, they'll be topless because this is Amsterdam and because they're in a wrestling ring of oil and because it's the groom's last weekend of happiness as a single man.
You're caring guys, you care too much if anything, you want the groom to have such a great weekend that you've arranged for him to get in on the action. Each round lasts 10 minutes. The first round is purely girl on girl. Then the groom will get the shock of the weekend when they grab him and insist he strips down to his lucky pants and will then be pulled into the ring. He'll then have an exhausting 10-minute round, fighting both babes as the rest of the guys look on and laugh.
He'll get his hands all over two hot topless babes, could he ask for a better send-off? "It's what he would've wanted." Admittedly he'll have to do it while all his mates look on, laugh and take the pilsner, but this way all the guys get to enjoy the fun. Win/win. Unless the babes totally paste him in which case he loses.
After years of watching WWE as a kid, the years you spent wrestling with each other when you were younger? It all boils down to this amazing Amsterdam stag party oil wrestling. "Lllllllet's get ready to ruuuuumbllllllle!"