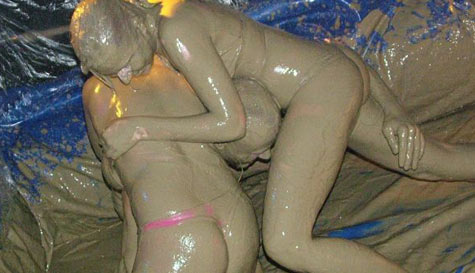 Any good stag do requires four basic ingredients:
Beer
Babes
Banter
And a prank for the groom
Well, our Budapest stag party mud wrestling combines all four in what is the daddy of all stag-do-stitch-ups.
The setup...
Tell the groom to get dressed in his finery, splash on a bit of Old Spice and make sure he's got clean pants on. You'll also need to have a pair of trunks or a mankini handy.
You'll be met at your hotel by our lovely local guide who'll escort you to the venue. Once you arrive, you'll enjoy a free round of beers see a wrestling ring full of warm liquid mud. Sharper grooms might start to suss, so you'll need to be on your toes to tip him off guard. Two Hungarian hotties will then take to the ring to do battle. Each bout lasts 10 minutes.
Evil genius...
Halfway into the first bout is a good time to tell the groom what's coming next. That gives five minutes to watch his face turn white and watch him start to sweat.
Showtime!
He'll then take part in a 10-minute bout with his two hugely enthusiastic and eager opponents.
Job well done...
You can then choose to add Guest List Nightclub Entry to your evening so you can enjoy the plaudits and pats on the back from the groom's entourage for arranging a stag weekend of legendary proportions. You might also get a few death threats from the groom but we're sure everything will be forgiven... until he hears your Best Man Speech!