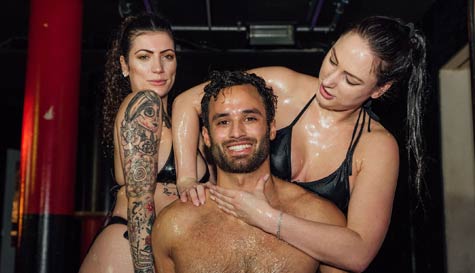 This is what stag parties were invented for! A chance to give the groom a little bit of friendly humiliation at the hands (and between the thighs) of two incredibly hot, topless wrestlers.
The session will start with a female guide who'll show you to the venue. And this isn't just any venue, you'll have exclusive hire of an entire strip club! Inside you'll find two female wrestlers warmed up and ready for the groom. Once he's got over the surprise he'll need to "Get ready to rumbllllllle!" as he'll be climbing in the ring and wrestling the topless hotties.
Beer o'Clock
Each of the stag will receive a free beer
The groom will get unlimited free beer
More Punishment
You can also add an extra 'groom treat' to your session...
Roly Poly Show - The biggest stripper the groom will ever see!
Ask our team about adding an extra treat to your Prague stag do.