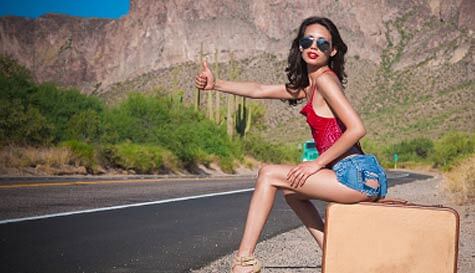 Not one for picking up hitchhikers by the side of the road? Well, Sirs, prepare to change your minds in the few seconds it takes to comprehend a sexy, stripping hitchhiker! This is a terrific prank which will surprise all the boys and keep them talking for years afterwards - not least because we've found the most beautiful ladies around to take part!

You can do this great activity on your flight transfers to your accommodation or after an activity on your transfers back to your accommodation. Your bus will happen to find a sexy girl stranded by the side of the road. Like modern-day Sir Galahads, you'll ride to her rescue arriving on your silvery steed (or a mini-bus). Your driver will stop and the girl will get on, apparently innocently, until she locks eyes with the groom, the music starts to play and the clothes start to drop!

This sexy, once-in-a-lifetime activity is the perfect way to begin the stag do, or an excellent way to end a terrific activity. It's also a fantastic way to laugh at the groom's expenses (please note, we are in no way condoning any pranking of the groom, however, who are we to stand in the way of tradition?!?). You can be sure of creating some first-rate memories and have the ultimate stag do stitch-up, with this group-pleasing prank!
Please remember any evidence should be uploaded to Facebook with Extreme Caution! Check Rule #4 of The Laws of the Stag Do for details.