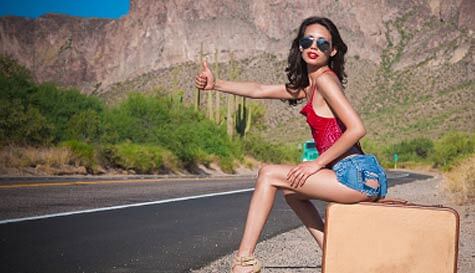 Not one for picking up hitch hikers by the side of the road? Well, sir, prepare to change your mind when you hear about our outrageously sexy, stripping hitch hikers! Yes, the Sexy Hitch Hiker stag prank is the ultimate in stag do entertainment which the boys will be talking about for years to come, solidifying your status as a stag legend for eternity.
You can choose to do this great activity on your flight transfers to your accommodation or after an epic stag activity on the way back to your hotel. As you're heading along a highway your bus will happen to find a sexy woman stranded by the side of the road and, like the heroes you all are, you'll ride to her rescue arriving on your silvery steed (or mini-bus). Your driver will come to a stop and the lady will hop on, apparently innocently, until she locks eyes with the groom, when all of a sudden the music starts to play and the clothes start to drop!
This incredibly epic, once-in-a-lifetime activity is the perfect way to kickstart proceedings on the main man's stag do or an excellent way to end an awesome all-action activity. It's also a fantastic stag prank to pull on the groom and laugh at his expense. It really is win after win after win!
Please note: We are in no way condoning any pranking of the groom… although, who are we to stand in the way of tradition?!
If you're looking to break the ice and kickstart the party or just set the tone for an epic weekend ahead, the Sexy Hitch Hiker stag do activity is the ultimate crowdpleaser. Forget the strip club, guys, it's time to bring the show to you in the close confines of your own stag mobile. Gents, prepare to party!