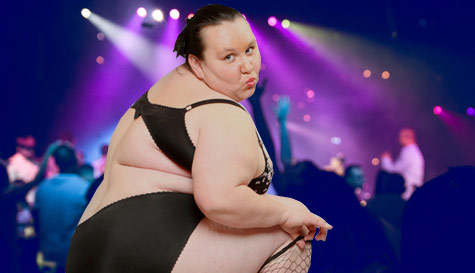 All good stag parties need a hilarious stag prank or two to keep the laughter and banter flowing in equal measure, and this outrageous Roly Poly Show is the big mama of all stag party pranks! You and the boys will treat the unsuspecting groom to a raunchy strip show (well, it is his stag do after all), although it may not be quite what the main man had in mind!
Depending on where you are heading your show may vary, but the key components will stay the same. There will definitely be:
1 x Gullible groom
1 x Supersized stripper
1 x Group of hysterically giggling stags
Add your roly-poly stripper to a boat cruise, get her to perform at your stag dinner or, if you happen to be heading to Budapest, you can give the stag the great honour of being handcuffed to the entertainer for a whole hour of roly-poly fun - the perfect opportunity for a photo or two. Gents, the stag world is your oyster!
A bit of light-hearted hilarity is a great way to get the weekend into full flow and get the boys ready and raring for the biggest send-off of the groom's life, it's also something you'll all definitely be talking about for years to come. Wherever you and the boys decide to make the most of this performance, you'll be guaranteed a top-quality time!
If you want to up the ante further still, why not blindfold the stag or dress him up for maximum humiliation?! As the stag do organiser, it's best to be the man with a plan as the rest of the stags will look to you to provide the entertainment and make sure they get bang for their buck.
And we bet nobody will see this one coming… well, until she takes to the stage, then it's pretty hard to miss!