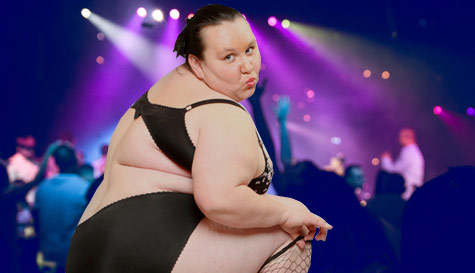 There are a few options for this epic performance and it'll ensure you and the lads' years of banter and create memories you won't soon forget! You can stitch up the groom after a regular lap dance, include the roly poly stripper on a boat cruise or host the activity at your stag dinner. Wherever you decide to make the most of this performance you and the lads are guaranteed a top-quality time!

You can blindfold the stag for this surprise performance, or even dress him up for maximum humiliation, what you can be sure of is that the lads are going to have a first-rate time watching from afar! At StagWeb we find the best venues and activities so you're guaranteed an epic stag weekend, and with this hilarious stag prank, you'll be talking about the big event for years!

If you're experiencing the roly poly show in Budapest then we'll take this superb prank up a notch! You can opt for the stag to have the great honour of being handcuffed to the entertainer for a whole hour of roly poly fun - perfect opportunity for a picture, and we'll make sure the rest of the group are well looked after as well.

All good stag parties need a prank or two and this is the big mama of all stag party pranks. As the stag do organiser it's best to be the man with a plan as most of the stags will look for you to provide the entertainment and to make sure the groom gets a proper send-off ahead of his big day. Bet nobody will see this one coming (although when she does arrive she might possibly block out the sun!).