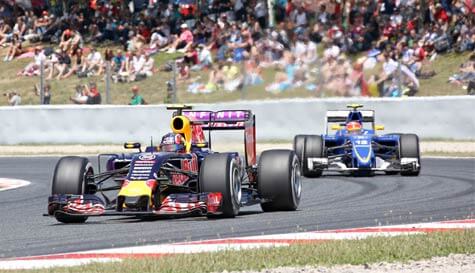 This is, without doubt, one of the hottest fought races on the F1 calendar and the Spanish Grand Prix has a great history dating back to 1913.
With our fantastic Spanish Grand Prix tickets, you can get access to all the action from practice, through qualification and into the race itself. You'll receive your tickets prior to jetting off to one of Europe's greatest party cities where you'll head to the Circuit De Barcelona-Catalunya. Once on the course, you'll have unnumbered general admission seats in the Pelouse area to watch all the action.
With the seats being unnumbered we advise getting there in plenty of time to grab a good vantage point as this is a really popular race with an amazing atmosphere. The Spaniards are hugely passionate about their racing and their drivers and the electric atmosphere in the stands is only bettered by the action on the track.
Inside the circuit, you'll find all kinds of motor-related stands with promotions and competitions galore. There's also plenty of bars, shops and restaurants to keep the guys well fed and watered as well as picking up some F1 related merchandise.
Getting there…
Public transport to the Circuit De Barcelona-Catalunya is really good and inexpensive and on race day can be better than the often gridlocked Barcelona roads. However we can arrange transfers for you if required, please ask our team for more details.
Spanish Grand Prix Pub Trivia
The first race took place on a 300km road circuit
The modern track is 4.65km long and the race held over 66 laps (307km)
Racing legend Juan Manuel Fangio won his first world title at the Spanish Grand Prix
The earlier Pedralbes circuit had no crash barriers and was instead lined with... Spectators!?!
British winners include; Lewis Hamilton, Jenson Button, Damon Hill and Nigel Mansell (3 time winner)
Michael Schumacher has the most Spanish titles having won 6 times