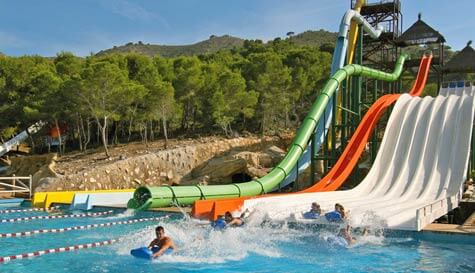 There are two ways to approach a stag party outing, you can stay cool, aloof and retain a stag-like swagger... Or you can run screaming into action like a 7-year-old after two gallons of coke who's just been told the ice cream van is giving away free catapults!!! We hope you opt for the latter (although you're still English gents so always allow women and children to go first, as is written in the bro-code).

However, this is a site where all the stags can totally revert to childhood and just have a totally awesome time. It's the ideal setting to celebrate the groom's coming of age and last days as a single man on your Benidorm stag do.

Quite possibly the world's harshest hangover cure, there are over 20 different rides and areas for the boys to get wet and wild with which you can ride as many times as you like including:
Black Hole - Because on a stag do, no one can hear you scream!
Vertigo - You'll enjoy some amazing views over Benidorm, which might just help take your mind off the 22-metre sheer drop where you can reach speeds of up to 100kph!
Splash - A multi-track designed where you can race the other stags. Jump over your track and compete with others to see who arrives first.
The Rapids - It's every stag for himself as you head down the rapids!
Lazy River - Relax and take it easy as you drift downstream on an inner tube.
Big Bang - the ultimate free-fall sensation as you think about your own big bang theory.
Zig Zag - A chance to potentially see your lunch again. Best attempted on an empty stomach.
There's also plenty of shade to chill-out as well a great range of food options from paella to burgers.