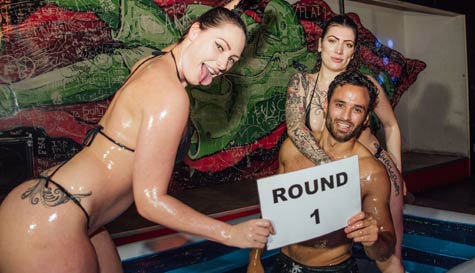 Pranking the groom is an age-old stag tradition that dates back to when Merlin turned round to King Arthur during the pre-wedding feast and said: "Pull my finger". Thankfully stag pranks have moved on and our oil wrestling is the daddy of all stag do stitch-ups.

A good stag do requires a few basic ingredients:
Beer
Hot women
Laughter and...
A way to stitch up the groom
This superb activity delivers all four and will make you a king amongst men for pulling off such an amazing Budapest stag do. You can then head on to a nightclub where the stags will no doubt reward you with a pint or three.
Here's the setup...

Don't tell the groom where you're going. Tell him to make sure he's washed behind his ears and has clean undies, all the usual stuff to wind him up. Let him ask questions but tell him nowt. And make sure you have a swimming costume or mankini hidden ready for later.
You'll then be picked up by a lovely local guide who'll take you to the venue where the groom will be pleased/or completely horrified to see an oil wrestling ring set up. It depends how quick on the uptake he is or how well you manage to disguise your real reason for being there.
The stags will be greeted with a free round of beers before the sporting action begins.
Two unbelievably hot Hungarian honeys will take to the ring. Nekked! The first round will last approximately 10 minutes. About 5 minutes in is a good time to reveal to the groom what's coming next. So that he has the next 5 minutes to work up a sweat.
The real show then begins as the groom, donning his swimwear/mankini has to take two for the team as he goes into the ring, ready to do battle with his enthusiastic and eager opponents.
"Easy! Easy! Easy!"