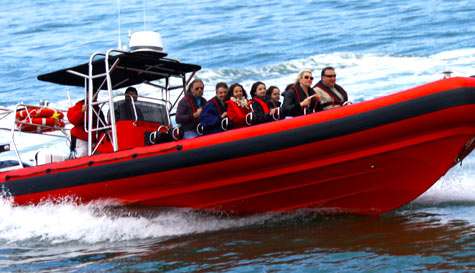 Second only to nightlife perhaps, sun, sea and sand is the main draw to the beautiful island of Ibiza. Make the most of its stunning coastline and try out our fast and furious thrill-seeking boat ride! Similar to stunt boats used in the movies, you'll be thrown, tossed and jumped from side to side at top speeds of up to 70 mph in this boat trip of a lifetime. Forget your grandma's cruise, this is a ride to remember and whether you prefer to keep your stance in the centre or get the full effects of your speed by leaning right out over the edge, it'll be enough to knock the socks off even your most adventurous stags.

Experience the excitement and adrenaline of a thrill-seeking stunt boat ride over the striking coastline of Ibiza. You and the boys will soon be gripping tightly to your seats as the sea spray hits you from all directions and you jet over the waves at crazy speeds! Expect huge wave jumps, g-force inducing stops and amazing backspin during 70 minutes of pure thrills and spills. You'll see more of Ibiza than you thought possible in the shortest time imaginable and your expert speedboat captain will make sure that you all have an unforgettable and totally exhilarating time! Just make sure to bring along your sea legs...

There's no better way to blast away a scorching Ibiza stag hangover than with this epic thrill-seeking boat trip, so get the lads together for this unforgettable seafaring lad odyssey!