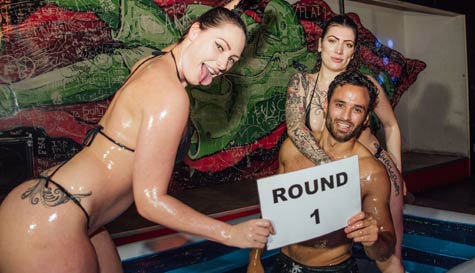 Let's be honest lads, we've all looked at the women wrestlers of the WWE and thought, 'corr, she's a bit of alright'. If you're eagerly nodding your head (and possibly salivating a little) at the thought of those battling beauties, then our Krakow stag do oil wrestle is perfect for you.

On arrival, you'll meet two incredibly hot (and scantily clad) Polish babes who'll lead you ringside - except somebody's made a terrible mix-up and changed the squared-circle for a massive inflatable paddling pool filled with oil - what a shame!

Never ones to complain, the girls will carry on with the job anyway and lock arms in a slip and sliding, sizzling hot grappling competition where the real winners are the lucky lads looking on from the sidelines! Once the ladies are suitably warmed up for the occasion, they'll then proceed to invite a third competitor - the stag himself!

If he's game (and we're willing to bet that he is) the wrestlers will waste no time in dragging him into the arena - making things even more hot and slippery. Our Krakow stag party oil wrestle is an epic way to treat (or prank) the groom on his last weekend as a free man, and it's certainly going to get any big night out off to an unforgettably sexy start.