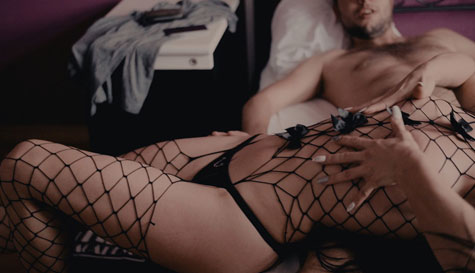 If only every day started like this. Picture the scene…
The groom is rudely awakened from his much-needed beauty sleep by a rude knock at the door. But if he thought that was rude, what happens next is just a shocker! As he groggily opens the door, yawning and expelling a plume of stale beer breath, he'll find himself coming face to face with an absolutely stunning babe who apparently doesn't have any clothes that fit her, everything seems to be mind-numbingly tight and fantastically revealing. Before the chance to get a word out (although to be fair, at this point his brain has probably gone into meltdown), she'll push straight past him and into his room. And that's when the fun really starts!!
Reasons she might be there:
From the Ljubljana tourist board, checking the pillows
Slightly confused room service delivery girl
PPI saleswoman
Stunning stag party stripper
Thankfully for all the stags, the answer is going to be 'D'. She's a stunning babe and she's here purely to get the groom smiling ("Look at his little face!") but even better than that, all the other stags will get to look on and laugh!
She'll give the groom the best morning ever! Performing an incredible routine with special moves just for the groom alone (lie back and think of England big boy, we'll tell you when the show's over!).
The real genius is that the groom will get a fantastic experience, all the guys get to have a laugh at his expense, you all get the sight of a phenomenally beautiful stranger undressing right in front of you (we're guessing that's probably not a daily occurrence for everyone in the group) and you earn some serious best man points from the whole party. Because damnit you earned them you stag legend you!