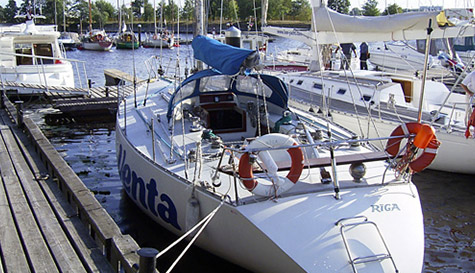 A nice bit of harmless sightseeing? The wives and girlfriends back home will be very impressed with how well behaved and cultured you're being. Ok, so you failed to mention it's on a yacht with some ice-cold beers and a stunning Estonian stripper! Whoopsie, Mr Forgetful! Not to worry, the Estonian Stag Party Strip Yacht is guaranteed to go down an absolute storm with the groom and the rest of the stags, and that's what really counts here.
Let's face it, if you and the boys are going to do some sightseeing, you're going to do it in style. Forget an overcrowded, stuffy, boring bus tour, enjoy the stunning sights of the Baltic coastline on your own private yacht, captained by an English-speaking guide. On your three-hour tour, you'll each get three beers (well, we don't want you guys going thirsty now, do we?) and you'll be treated to an outrageously sexy twenty-minute strip show by a drop-dead gorgeous babe.
If you can take your eyes off your stunning stripper for five seconds you'll be impressed by the scenery of the Estonian coastline and you'll witness some brilliant sights, including the Passenger Port, Patarei Prison and the historic Seaplane Museum.
Now, we know a stripper is hard to top, but if you and the boys fancied cranking things up a notch, you can even throw a second stripper into the mix. Check out the special offers for more details.
To take the hassle out proceedings, you will get a transfer from your accommodation to the port. Once you've got back on dry land you can head back into the centre of Tallinn and carry on the party with a Guided Pub Crawl. Speak to a member of our team today for more info about creating that epic stag weekend away.