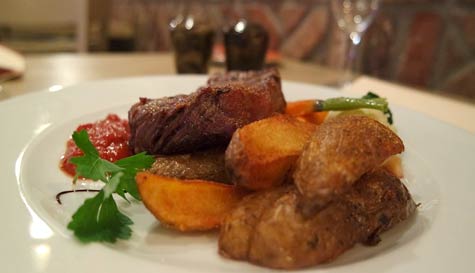 Napoleon once said, "A stag army marches on its stomach." And he knew a thing or two about keeping the troops in line. The simple fact is, if you keep the guys well fed and with plenty of liquid refreshment on hand, then you're halfway to becoming a stag party organising legend.
But this isn't any old pub grub, the guys won't settle for just a burger either, this is the groom's last big weekend as a single man, so it needs to be done in style and it really doesn't get more stylish than this!
(Vegetarians please look away now)
You and the guys will sit down to 200 grams of succulent Argentinian prime steak, arguably the finest steak in the world. The steak will be cooked to your exact specifications (*Clint Eastwood accent* "Just cut the horns off and wipe its ass.") on a lava stone grill. It will be served alongside the vegetable of the day, gaucho potatoes and not one but two lobsters.
And because man cannot live on steak and lobster alone (although we'd give it a bloody good try), you'll also receive two beers each.
Your table will be booked and waiting for you and inside you'll find a sophisticated and welcoming steakhouse with attentive staff and food that all the stags will agree will make a fitting last meal for the condemned man.
No one wants to waste time walking the streets looking for a restaurant, so getting everything booked in advance leaves you more time to get familiar with the local beers.