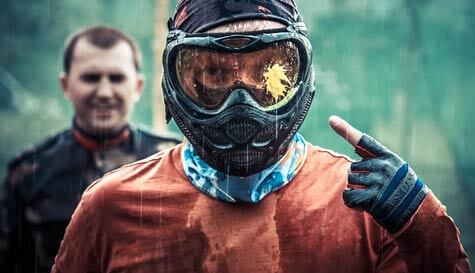 Stag parties and paintballing go perfectly together. It's a chance to vent any lingering frustrations you've got with your mates by smattering them all with paint ... and bruises. Has a stag been giving you a hard time? Fire off a few rounds at his back, even if he's on your team.

Our Bath stag party paintball is popular for a reason. With the latest gear and some of the best purpose-built game arenas in the UK, you won't run out of ways to indulge your inner warrior. There are 20 unique game zones to choose from in the vast woodlands you'll be playing in, making it one of the best paintballing locations around.

It's all well and good boasting about your merits on the virtual battlefields of Call of Duty or Halo, but there's no better way of sorting the Schwarzeneggers from the Smiths than by battling it out in a hail of paintballs and expletives.

It's the perfect recipe for stag success:
A bunch of hungover guys falling over and hiding behind trees
Semi-automatic paintball guns capable of turning your mates into living art
Something bright for the groom to make sure he sticks out like a sore thumb; think pink tutu or neon Y-fronts.
Plenty of epic stories to tell afterwards and a chance to determine who'd be the most useless in an actual warzone.
With the groom being elected for any heroic, last-ditch attempts to rescue victory from the jaws of defeat, the rest of the lads can avoid getting too colourful while enjoying the spectacle of the groom being utterly stitched up. What's not to love about our Bath stag party paintballing?
Why not add…
You could also go double bubble by adding a second activity to your day (fees apply).