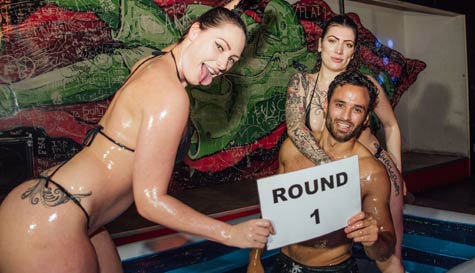 Remember when the groom was younger and he went through that wrestling phase, dressing up in his mum's clothes and talking about grappling muscular men... Okay, with hindsight you're presuming it was a wrestling phase. But after all that talk about smackdowns and Royal Rumbles, it's time for you to finally put his wrestling moves to the test in one of the greatest stag pranks of all time.
The night will begin like any great stag night, a few drinks, a good stag party dinner and then some fitting stag entertainment, in this case two unbelievably hot babes covering each other in oil and then wrestling for your viewing pleasure (hey, if you want highbrow go to the opera, this is a stag do!).
These local stunners will grapple for two highly enjoyable rounds before looking for a new opponent. Then like an elbow drop to the happy sacks you can take the groom down with a totally unexpected killer stag prank, because what the groom won't know is that you've already arranged for him to take on the battling babes in a two vs one final bout.
Pranking the groom isn't just your right, it is your duty.
They are the fundamentals basics of being a great best man and this is definitely one of the greatest stag pranks ever!
Great Stag Party Wrestling Songs
Let's Get Ready To Rumble - Ant & Dec
Tubthumping ("I Get Knocked Down...") - Chumbawumba
Hurts So Good - John Mellencamp
Out for the Count - Orange Juice
King of Pain - The Police
Bitchslap - Slipknot