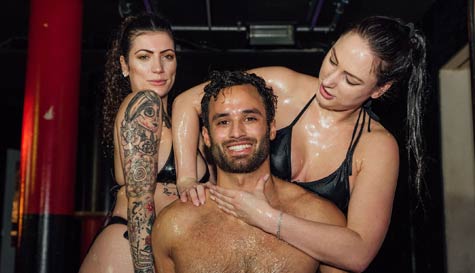 As the best man, you have some key responsibilities, organising a Bratislava stag do, writing a brilliant best man speech and pranking the groom. To not prank the groom would quite frankly be a dereliction of duty and a crime against stag-kind. Thankfully, at StagWeb we've got your back Jack with a stag do prank of legendary proportions. The night will start well enough, all the guys up for a few laughs, sampling some of the local amber nectar before enjoying a fun bout of Jelly Wrestling. So far, so good, the hapless groom at this point will be none the wiser.
The jelly wrestling will begin with two stunningly hot girls taking to the ring for a battle of the babes. You can choose whether the girls wrestle in bikinis or whether they wrestle naked. It's highly unlikely at this point the groom will be studying their moves, watching their defence strategy, it's more likely he'll be too busy admiring their, erm footwork (?).
But after the bell ends the second round the wrestling babes will be looking for an entirely new opponent. And this is when your dastardly plan will swing into action and the blushing bridegroom gets a much closer view of the match than he was expecting.
He'll be dragged into the ring where he'll face both babes in unarmed combat. And what we'll undoubtedly be the singularly most one-sided yet unbelievably enjoyable fight he could ever have imagined.
Great Stag Party Wrestling Songs
Let's Get Ready To Rumble - Ant & Dec
Tubthumping ("I Get Knocked Down...") - Chumbawumba
Hurts So Good - John Mellencamp
Out for the Count - Orange Juice
King of Pain - The Police
Bitchslap - Slipknot