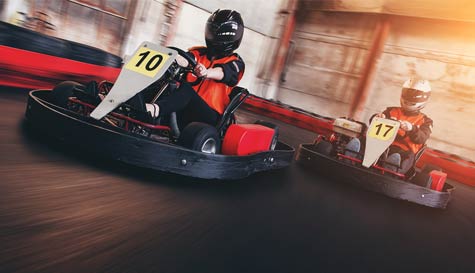 There are few things in life German's take quite as seriously as speed and precision, combine those two Germanic obsessions and you end up at one of the greatest karting tracks we've ever seen. Our outdoor Cologne stag party go kart track is nothing short of epic and has even been given the Michael Schumacher seal of approval.

The Track
The 710-metre track has a flawless surface and designed to supply maximum thrills and racing competition with F1 turns and corners. You'll also find a digital lap time measurement system with printout of all your individual race times, slowest laps, fastest laps and more. The track can also hold up to 22 karts at a time.

The Karts
The Rimo Evo Karts are replaced on an annual basis to ensure you'll be racing the tightest and fastest carts available.
Engine - 8.5 bhp Honda GX 200
Ground clearance - 5cm
Frame - 31.8 mm diameter special alloy
Brakes - Hydraulic dual braking system
Drive - Toothed belt
Safety - Axle cover, glass fibre reinforced plastic
These are among the very best karts you'll find anywhere in Europe which combined with such a well-designed and maintained track means you're in for an unparalleled racing experience.
The Facilities
It'll be full-throttle action from start to finish as you compete for a podium finish. You can opt to extend your racing time for a longer session. Please ask our team for details.
You'll also find a greats sports bar with big screen TV's and hot food. Perfect to raise a celebratory glass to the winner (who's about to become unbearably smug) and set pint penalties for the loser.
Please note; German tracks play close attention to drink driving, anyone clearly under the influence will not be permitted to drive. Also, you must present ID/driving license in order to be allowed to race.