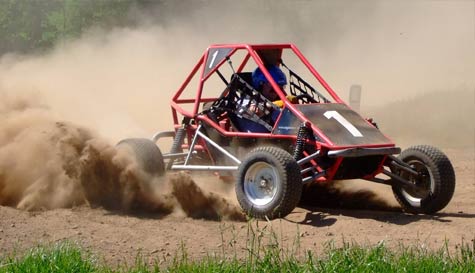 If you want a seriously competitive and completely kick-ass, high-speed activity then our Edinburgh stag party Rage Buggies are definitely for you.

Capable of hitting speeds of up to 60mph these high powered wee beasties are just about the angriest off-road vehicles you'll ever come across. They'll chew up and spit out pretty much any terrain you point them at, but keeping them pointing in the right direction is key as they don't take any prisoners.

As well as a complete roll cage and off-road tyre, you'll be issued with gloves, goggles, helmets and overalls. After a quick safety briefing and some instruction on the controls, how to find the best race line and get the most out of the slip diff from the instructors/marshals, you'll take to the track for some full throttle, wheel to wheel action. This is a dirt track with all the thrills and spills you'd expect, plus the possibility of watching one of your mates park it in a tree.

Initially, you'll get some practice laps to learn the track and test the handling of the buggies, then the real fun begins. You'll face a series of heats, after each heat you're given your lap times so you can see how well you're doing. The top drivers will eventually head through to a grand finale.

The top three drivers will celebrate with a podium finish as the Stag Stig is given a bottle of bubbly to spray over those that trailed in his wake and claim bragging rights for the remainder of your Edinburgh stag do.